Watch this space or sign up to our newsletter for advance notice of future events at Sky Park Farm.
Sky Park Farm open 6 days a week
23.07.2021 - 18.10.2021
Open Tuesday to Sunday, 9am to 5pm
Meet and feed the deer every day 

Let off steam in the Adventure Playground  

Challenge your family across the Farm Trail

Picnic by the Dew Pond and River Rother 

Tease your taste buds on The Terrace
We are open six days a week from Tuesday to Sunday. Offering something for everyone, families of all ages can enjoy our unique visitor experience. 
Enjoy walking around the farm, getting to know the deer. Why not buy some special deer food from the Visitor Centre to feed the deer? Our rangers will be available during the day to help with feeding and share some secrets of deer farming. Why not ask them about sustainable farming practices too? 
When exploring the Farm Trail see what you can spot – perhaps some red, white or sika deer calves. What other indigenous wildlife can you see? 
During your visit to Sky Park Farm, perhaps you would like to picnic in one of our magical spots by the Dew Pond and River Rother – freshly made sandwiches and a selection of drinks, savoury and sweet treats and healthy snacks are available from our Visitor Centre, along with a selection of deer themed gifts. If you visit at the weekend, why not try our freshly made sourdough pizza available on The Terrace from our Grazing Rooms pop-up? 
Children young and old can let off steam in the Adventure Playground. With a special fenced area for the Under 5's and a larger play area for older children, children can satisfy their lust for adventure whilst our deer look curiously on. Many children have already scaled new heights with the climbing wall, created adventures in the fort with its tunnel, across the ropes and down the fireman's pole. Since opening, laughter has filled the air as children piled onto the swing seat. 
Entry to the Farm is through the Visitor Centre. The Grazing Rooms café, Farm Shop and Butcher will be opening soon.  
How We Are Keeping You Safe
We have put extra safety measures in place to ensure we are COVID-19 secure. We have followed government advice and implemented necessary precautions so that we can provide a safe and enjoyable visit for everyone.
Click HERE to make your booking.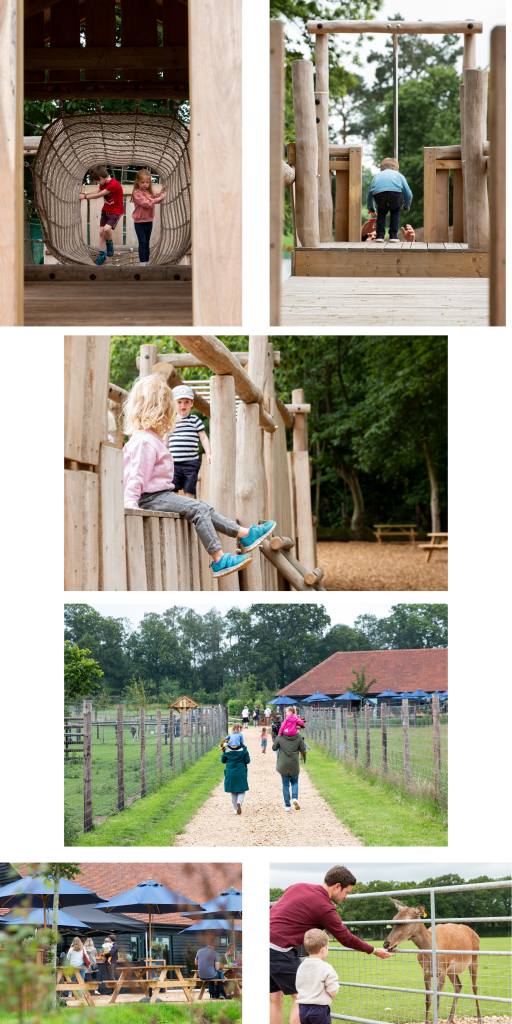 Kick off Christmas At Sky Park Farm
03.12.2021
Christmas is around the corner and we are building up to a magical few weeks at Sky Park Farm.  Festivities will start on 3rd December as we turn on our Christmas tree lights and bring our communities together to sing […]