Watch this space or sign up to our newsletter for advance notice of future events at Sky Park Farm.
Half Term Halloween Fun!
23.10.2021 - 31.10.2021
Book tickets here for your visit to Sky Park Farm for Halloween Half Term. 
The team at the Visitor Centre are brewing a cauldron of spooky fun: 
Can you spot our bats across the Farm Trail? Or hiding in the Farm Shop? 

Enjoy our traditional games in The Deer Hub – Bat and Pumpkin Toss, Witches Hat Hoopla and Pumpkin Noughts & Crosses!

Why not drop into the Farm Shop

Stock up on halloween goodies from our Farm Shop, maybe a

Witch gingerbread biscuit! 
Historically, the tradition of Halloween originated with the ancient Celtic festival of Samhain, when people would light bonfires and wear costumes to ward off ghosts. In the eighth century, Pope Gregory III designated November 1 as a time to honor all saints. Soon, All Saints Day incorporated some of the traditions of Samhain.
At Sky Park Farm, our deer are our first priority, so while fancy dress will feature among our Halloween activities we will certainly leave bonfires to the safe community spaces in the wonderful local villages and towns, away from our herds of red, white and sika deer!
While you're at the Farm, why not buy some special deer food from the Visitor Centre to feed the deer? Our rangers will be available during the day to help with feeding and share some secrets of deer farming. Why not ask them about sustainable farming practices too? The rut will come to an end in November – see what sounds you can identify. 
Children young and old can let off steam in the Adventure Playground. With a special fenced area for the Under 5's and a larger play area for older children, children can satisfy their lust for adventure whilst our deer look curiously on. Many children have already scaled new heights with the climbing wall, created adventures in the fort with its tunnel, across the ropes and down the fireman's pole. 
We are open six days a week from Tuesday to Sunday, 9am to 5pm. Freshly made sandwiches and a selection of drinks, savoury and sweet treats and healthy snacks are available from our Visitor Centre, along with a selection of deer themed gifts. Offering something for everyone, families of all ages can enjoy our unique visitor experience. Entry to the Farm is through the Visitor Centre. The Farm Shop, Butcher and Deli will be open from 20th October. Bookings will open soon for The Grazing Rooms café which opens from 31st October.
For more information on Halloween and other activities, sign up here to our Deer Friends newsletter.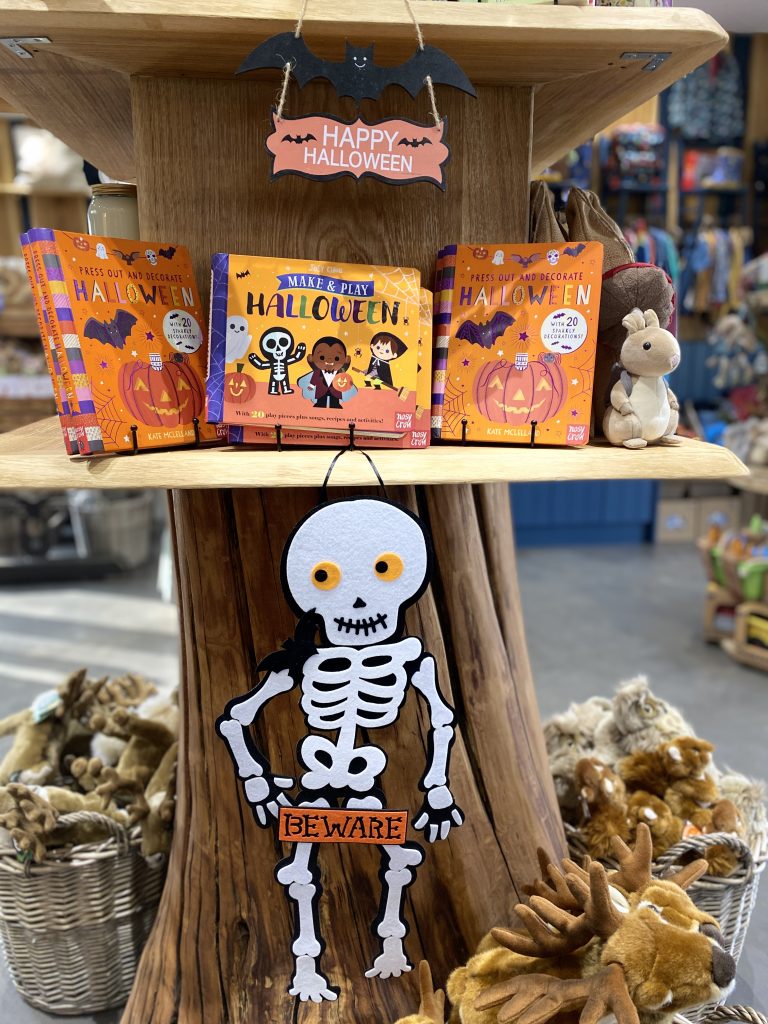 Kick off Christmas At Sky Park Farm
03.12.2021
Christmas is around the corner and we are building up to a magical few weeks at Sky Park Farm.  Festivities will start on 3rd December as we turn on our Christmas tree lights and bring our communities together to sing […]